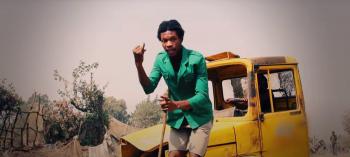 AfricaTube, in collaboration with the Centre d'art Waza
Every year, the Waza Art Centre in Lubumbashi (DRC) presents in this room a new selection of cultural productions from online platforms. The result is a discursive but eclectic dive into African cyberspace, fuelled by the initiatives of young people living in the DRC, elsewhere on the continent or in the diaspora. In their productions, they disregard borders and emancipate themselves from formal constraints.
Kamindwa Mindwa
In a video clip, whose title gave the name to this exhibition, the breakdance and beatmaking group Cyclone Rouge revisits traditional Luba games. The visual universe of the clip evokes the colonial period and the games of the pre-digital era. In Kiluba, Kamindwa Mindwa refers to both the little finger and a song that personifies the fingers of the hand. It tells a story about them. Beyond the pedagogical and mnemonic aspect, this song is also an ode to the Creator Vidye Kalombo. He has made humans capable of expressing themselves through matter and shaping it, producing crafts and works of art.
Far from the clichés of "resorting to authenticity", this video clip reveals the capacity for projection of the contemporary urban music scene in Congo. It deftly uses elements of ancient cultural heritage to criticise colonial oppression. For them, giving freshness to traditional cultures is not simply a matter of putting rhythm to the music, but also of giving a committed voice to history and collective memory. 
At the invitation of the AfricaMuseum to curate the AfricaTube room, the Waza Art Centre wished to start with productions of critical valorisation of heritage by presenting, alongside the work of Cyclone Rouge, a kaleidoscope of online platforms on history, literature and photography, produced mainly by young people living in DR Congo.
> Find out more on the Waza Art Centre website.

With the support of TEXAF and the Belgian Development Cooperation (DGD).