If you hold the African continent dear and if you also share a deep appreciation for the cultural and natural diversity and glorious human dynamism of Central Africa, why not make a donation or bequest to the AfricaMuseum? Regardless of the amount, you can indicate how you wish for it to be used by the institution: for knowledge dissemination, museum activities, or scientific research.
In Belgium, it is still uncommon to contribute to a good cause via wills and testaments. To help address any misgivings, we work with Testament.be. Their specialists are always ready to provide free and confidential advice on what suits your situation best, and on the estate taxes you must keep in mind when drafting a will.
If you would like to attend an information session organized by Testament.be, don't hesitate to contact us so we can inform you of future dates and provide you with a ticket.
The Royal Museum for Central Africa (AfricaMuseum)'s areas of work
AfricaMuseum, one of the most-visited museums in Belgium, houses exceptionally diverse collections, but is above all a meeting place for people who are enthusiastic about the immense human richness of the African continent and the many possibilities for action that it inspires. The museum focuses its efforts on knowledge dissemination, with an active programme of school activities for pre-school, primary, and secondary school groups. One of the common threads in all museum activities is co-creation: in all its efforts, AfricaMuseum seeks out the collaboration of external partners and experts of African origin.
Some one hundred scientists work with African partners to carry out research centred on past and present African societies, and on the biodiversity and geology of the continent. They strive to promote the richness of this biodiversity, measure the impact of climate change, manage natural hazards and parasitic diseases, reduce the impact of insect pests on crops, and study the languages, culture, and heritage of Africa. With the help of archives, they attempt to reach a deeper and keener understanding of the colonial period.
Want to read more about us?
 
Make a bequest to AfricaMuseum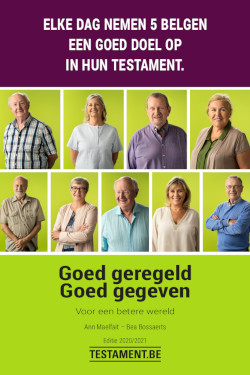 A legally valid will and testament naming AfricaMuseum as one of the beneficiaries is fairly easy to draft. Most wills are holographic. These are free, but their main drawback is that they can be lost or may contain formal errors that could prevent them from being executed. If you wish to ensure that a testament is drafted properly, you can ask a notary to assist you in drawing up your will.
You can obtain our legal guidebook containing abundant information on donations and bequests (in French or Dutch only). Send us an email with your contact details, and we will be happy to send you one at our expense. 
AfricaMuseum commits to using all amounts entrusted to it in a conscientious and professional manner.
If you would like additional information or wish to make an appointment to discuss the different possibilities at your disposal, please contact Veerle Taekels.
The AfricaMuseum account: 
IBAN: BE21 6792 0078 0603
BIC: PCHQBEBB
Contact:
Veerle Taekels
+32 (0)2 769 52 74
Send an e-mail