Precautions for a safe museum visit
How can I contribute to a safe museum visit for everyone?  
Together we can keep the AfricaMuseum corona-free. We therefore ask every visitor to observe the following measures:
Wearing a mask is mandatory for everyone over 12 years of age.
Buy your ticket

online

. Try to avoid any unnecessary physical contact.   
When you buy your ticket online, you will be asked to select a time block. Please respect the chosen time block.
If an online purchase is not possible, please pay by bank or credit card at the reception desk. Please try to avoid cash.
Respect the rules for social distancing during your visit and keep a minimum distance of 1.5m from other persons.
Try to avoid elevators. If necessary, a maximum of one person at a time or one contact circle will be allowed. Wheelchair users and/or persons with reduced mobility can use the elevator with one extra person.
Limit the use of the lockers. Lockers may only be used with your own coin. No tokens are lent out.
Avoid group tours, come and visit the museum with your own small circle.
What measures does the AfricaMuseum take for a safe museum visit?
A time gauge with quotas has been put in place to space out the number of visitors during the day.
There is a fixed one-way route through the museum to help you follow the necessary social distancing rules.
The maximum number of visitors per gallery is indicated at each gallery entrance. 
Our reception area is reorganized to safeguard social distancing.
Touch pens are provided for our interactive touch screens.  
Public sanitary facilities and other frequently used objects such as door handles, stair railings, lift buttons, lockers, etc. will be cleaned frequently.
Disinfectant gel is available at various points around the museum.
Wheelchairs and rollators are only available upon reservation so they can be disinfected after every use. For a reservation, please contact  reservations@africamuseum.be.
A few more useful tips:
If you come by public transport, wear a mask.
Wash your hands regularly.
Stay at home if you feel sick.
Can tours and workshops take place again?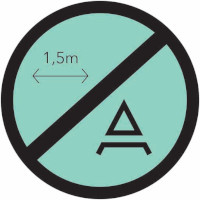 Guided tours and workshops can take place under a number of conditions. Be quick and book your guided tour!
 Individuals
- Guided tours are allowed for a maximum of 10 participants.
- The Birthday workshop is allowed for 9 children + 1 attendant
Schools

Pre-school: the workshop can take place every day, for the whole class + 1 accompanying adult.
Primary school:
- workshops can take place on Tuesdays and Fridays, for the whole class + 1 accompanying adult.
- guided tours can take place every day for the whole class + 1 accompanying adult.
Secondary school: workshops and guided tours are not allowed.
Wearing a mask is mandatory during the guided tours and workshops for everyone over 12 years of age.
If you had a scheduled activity during the closing period, you would have been contacted by our reservations service.
We apologise if you haven't heard from us yet. You can contact us at the following email address: reservations@africamuseum.be.
Is there any compensation for membership holders?
All memberships purchased before March 13th, 2020 will be extended for two months, a period equivalent to the lockdown period.
Please note that your membership can only be extended at the museum reception desk, not online.
Are the AfricaShop and Bistro Tembo open again?
The AfricaShop and Bistro Tembo are open.   
Do you have any further questions about your visit to the AfricaMuseum?
Feel free to contact us via reservations@africamuseum.be.
We are ready to help you. Together we can keep the AfricaMuseum corona-free.