The earth, brighter than paradise
Under the pen of In Koli Jean Bofane (Mbandaka, 1954), Freddy Tsimba meets Death, here named 'Liwa'. The encounter takes place in a hideout during the war in Kisangani. They talk. The artist bargains for his life but especially his work, as he shapes new figures that are more beautiful and powerful cradles of life and peace.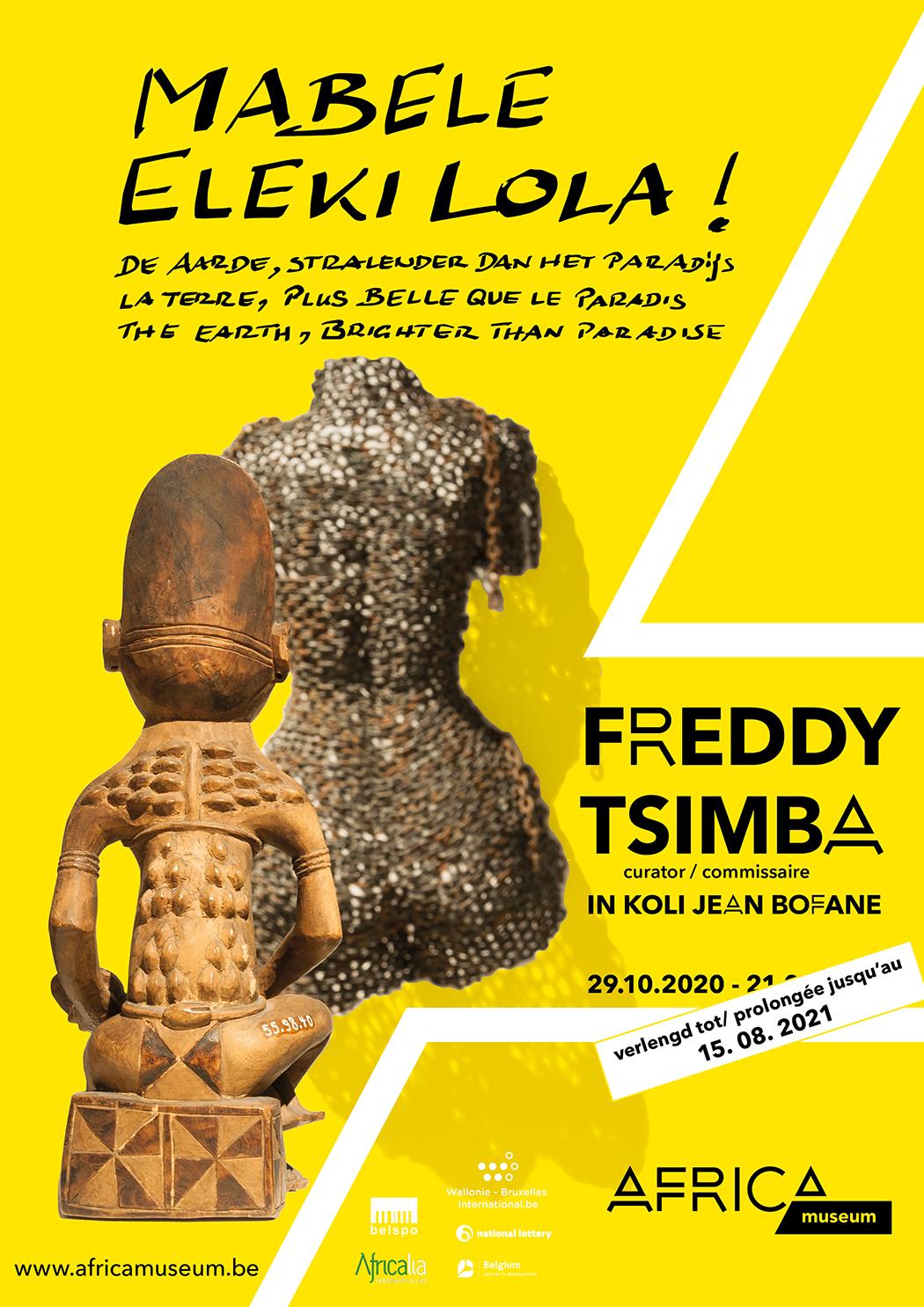 For the first temporary exhibition since its opening in December 2018, AfricaMuseum invites Kinshasa artist Freddy Tsimba to  dialogue with the museum's collections.
The curator of the exhibition is writer In Koli Jean Bofane.
The selection of ethnographic objects was made wit scientific contribution of Henry Bundjoko, Director of the National Museum of the Democratic Republic of Congo - Kinshasa.
THE EXHIBIT
Jean Bofane, author of Mathématiques congolaises (Actes Sud) and exhibit curator, casts a new light on the art of Freddy Tsimba by revealing the spiritual nature of his work. As the heir to a long tradition of master smithing, Freddy Tsimba transforms conflict metal into raw materials for a different narrative. 
Revival churches come with a promise of heaven. But what paradise do they speak of?
For the two artists, it is vital to do away with false promises. The earth is above everything else. It is brighter than paradise! The title comes from a conversation with the artist, an eternal optimist and lover of life and beauty.
Tsimba's monumental works come into dialogue for the first time with the museum's collections. The artist thus pays homage to the work of traditional sculptors and smiths alike. In this exceptional encounter, twenty-two installations by Freddy Tsimba come face to face with thirty museum pieces, many displayed for the first time
THE ARTIST
Freddy Bienvenu Tsimba (Kinshasa, 1967) studied monumental sculpture at the Académie des Beaux-Arts de Kinshasa, obtaining his degree in 1989. He works with bronze and scrap metal. The independent and engaged Congolese artist is deeply attached to human rights, particularly those of the most fragile – mothers and children. He exposes the tragedy of war and the ravages of violence over time. But he is also an advocate of peace and resilience, paying magnificent homage to women and to life. Today, Freddy Tsimba is known and renowned in Kinshasa and the international art scene, famous for his sculptures made from casings and cartridges and for his machete houses. He has participated in several editions of the Biennale de Dakar (2002, 2006 and 2008) as well as group exhibitions such as The Divine Comedy (2014), Kongo am Rhein (Basel, 2017) and Afriques Capitales (Lille, 2017) under the aegis of Simon Njami. 
Freddy Tsimba was an artist-in-residence at the Royal Museum for Central Africa in 2016, during which he created two works for the museum's reopening: 
Centres fermés, rêves ouverts, 2016. In 'Closed centres, open dreams', eight figures face the wall of the museum. The series pays tribute to refugees, to those turned away at the border, and to victims of violence past and present. 
Ombres, 2016. With 'Shadows', Freddy Tsimba uses light as a medium for the first time. Here he recalls the memory of Congolese victims of colonization. The work can be found in the museum's memorial gallery. 
THE CURATOR
In Koli Jean Bofane (Mbandaka, 1954) is a Congolese writer and exhibit curator who has lived in Belgium since 1993. His books have won several prizes and been translated into several languages. They include Pourquoi le lion n'est plus le roi des animaux (Gallimard Jeunesse, 1996) and Mathématiques congolaises (2008), Congo Inc., Le testament de Bismarck (2014) and La Belle de Casa (2018), all published by Actes Sud. He was also a curator for the Kongo am Rhein festival (Basel, 2017). In his work, he tackles the themes of globalization and social and political violence in post-colonial African societies, particularly in Central Africa. He depicts the continent as a laboratory of the world, a concrete and marginal space where his characters bump into reality. One of the characters in his next book is named Freddy Tsimba. 
COMPETITION FOR SECONDARY SCHOOLS
Only available in French and Dutch.
With the support of

Temporary exhibition
AfricaMuseum
Leuvensesteenweg 13, 3080 Tervuren