The museumrestaurant Bistro Tembo
Bistro Tembo reopens on 9 June 2021!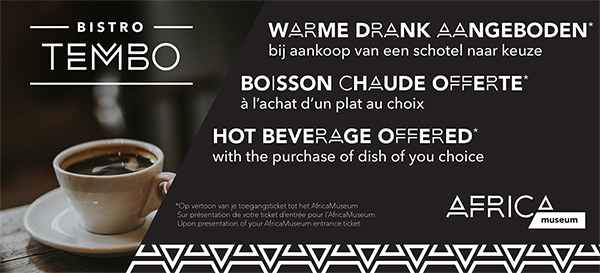 Hot beverage offered with the purchase of a dish of your choice
(upon presentation of the entrance ticket of the museum).
We welcome you in our museum restaurant, called TEMBO. It's the perfect place to relax with friends and family as you chat about your trip round the museum. The TEMBO restaurant has a varied menu for every time of day. 
A real 'Museum café' with table service, where the visitor is welcome for a variety of breakfast options before you visit the museum or a delicious, well-balanced lunch or evening meal. 
The restaurant is located on the first floor of the glass visitor centre and has a great view of the museum building and park.
In addition, there's a modern coffee corner with hot and cold drinks, in the museum itself. Visitors can stop off there and purchase refreshments from the vending machines. 
We strongly recommend to book in advance.
Opening hours
Monday closed
Tuesday to Friday: 11 a.m. - 5 p.m.
Saturday and Sunday: 11 a.m. - 6 p.m.
Contact