We suggest you combine the museum visit with a picnic, walk or bike ride in beautiful Tervuren Park.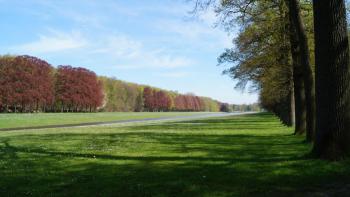 The park is 205 hectares and was once the hunting ground of the Dukes of Brabant.
The park is a national forest, laid out as a park comprising two separate valleys.
In front of the park there is a French garden with ponds, flowerbeds and statues, which opens out onto a series of ponds that get their water from the Voer.
It is one of the Flemish gateways to the Forêt de Soignes. A section of the Forêt de Soignes is recognised as a UNESCO world heritage site.The forest itself is home to quite a few animals. So while you are likely to see plenty of squirrels and rabbits, it is becoming much more common to spot the odd fox. The park's real African ambassadors, the Egyptian goose and rose-ringed parakeet, can be seen and more often heard throughout the year. The nuthatch, white wagtail and chiffchaff are permanent guests (in spring and summer), and if you visit the Park very early in the morning or late at night you may be lucky enough, especially in winter, to hear the call of the tawny owl. 
 
In 2019 public bikes will be available at the tram terminal near the entrance to the park. This makes it quick and easy to visit the Arboretum nearby.
In the town of Tervuren you will find the region's visitor centre, where you can pay for themed walks and bike rides at the reception desk.
A free map of the park is available in the visitors centre in the centre of Tervuren. You can also purchase the 10 € Park Guide there. Far from a voluminous or scientific publication, it is a handy little booklet with which you can discover the history of the Park at your own pace.
The new 5 € Walks in Tervuren booklet includes the Park walk. You can also download it for free via www.visittervuren.be or you can discover the Park in the company of a guide. For further information go to www.visittervuren.be.