The urban photography of Joseph Makula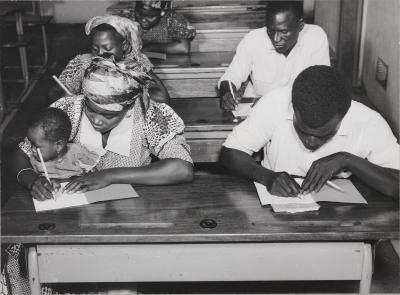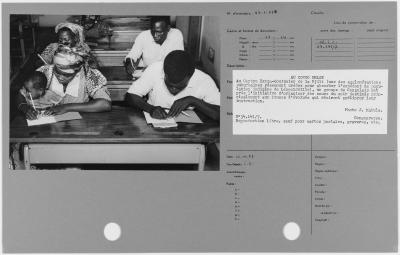 Photographer:
Joseph Makula
Place of production:
Democratic Republic of the Congo > Kinshasa > Kinshasa
Legend:
Several Congolese took the initiative to organise education for wives of évolués in the non customary centre of Njili, one of the boroughs of Leopoldstad. Education for girls lagged behind education for boys. Many évolués were forced to marry illiterate women who could not speak French.
Acquisition related person:
Inforcongo as donor
Date of acquisition:
1957-04-12
Original legend:
Au Centre Extra-Coutumier de la Njili (une des agglomérations suburbaines récemment créées pour absorber l'excédent de population indigène de Léopoldville), un groupe de Congolais ont pris l'initiative d'organiser des cours du soir destinés principalement aux femmes d'évolués qui désirent améliorer leur instruction.
Dimensions:
18 cm x 24 cm
Inventory number:
HP.1957.1.375