Reality and fiction in ethnographic photography of the 1950s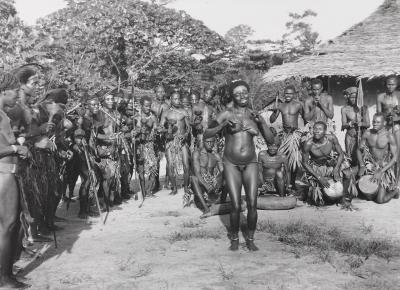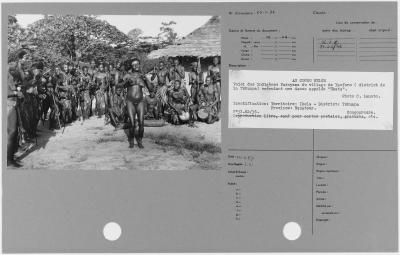 Theme:
music, dance/masked dance
Photographer:
Carlo Lamote (°1928)
Place of production:
Democratic Republic of the Congo > Equateur > Tshuapa
Legend:
A traditional dance is performed in the village of Yaoforo at the request of the official photographers of the state. Note how the dancers and musicians are dressed as 'primitives', with leaves tied around their waist. The young woman dancing solo here had to be almost naked for the picture.
Original legend:
AU CONGO BELGE. Voici des indigènes Yasayama du village de Yaoforo (district de la Tshuapa) exécutant une danse appelée "Ekata".
Dimensions:
18 cm x 24 cm
Inventory number:
HP.1957.1.76