Illustrated database of Neuroptera (insects)
Search
|
Browse
|
About the database
|
Contact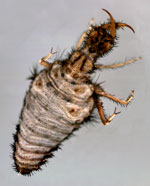 Neuroptera Characteristics
Neuroptera or Lacewings are delicate looking, soft bodied insects with a wingspan ranging in size from 5 to 150 millimetres and a body up to 50 millimetres in length. As their name suggests their wings appear lace-like with many intricate veins across their entire surface.
The larvae of lacewings, many of which are commonly known as antlions, appear very different from the adults. They are grub-like with large jaws projecting from the front of the head, which are used to seize their prey.

Neuroptera Database
This database is the result of a collaboration between Dr. Mervyn Mansell, Neuroptera specialist of the Plant Protection Research Institute in Pretoria (South Africa) and the Entomology Section of the Royal Africa Museum. All the specimens in the database are deposited in the collections of the Royal Africa Museum. For more ample information, please contact Dr. Eliane De Coninck, edeconinck@africamuseum.be
Additional information on Neuroptera in other Museum collections can be found in a second database (without illustrations), which came about entirely through the work of Dr. Mervyn Mansell, who authorised us to publish these data on our website.
For more information about the collection resources in this second database, please contact the Institutions concerned.