Algae and echinoderms off the coast of Mozambique
In April and May of 2018, a team of researchers from Belgium and Mozambique studied algae and echinoderms from different sites in Mozambique. This mission was the first phase of a project whose objective is to study the taxonomy of these two groups in a region neglected by research. This project also aims to train young scientists in the collection, preservation, and study of algae and echinoderm specimens.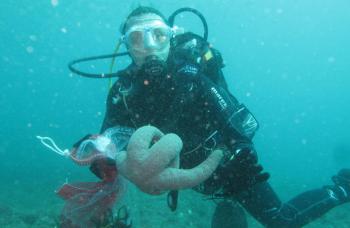 Science has paid very little attention to the coast of Mozambique, which stretches 2,300 km. This is especially true for algae and echinoderms, such as starfish, sea urchins, and sea cucumbers. Yet Mozambique's coasts are home to a wealth of marine biodiversity.
From 27 April to 14 May 2018, a team of researchers from the RMCA, the Royal Institute of Natural Sciences of Belgium, and Ghent University joined researchers from the Universidade Eduardo Mondlane, the Natural History Museum of Maputo, and the Escola Superior de Ciências Marinhas e Costeiras in Mozambique to study algae and echinoderms.
More than 480 specimens collected
'We explored different sites in Tofo and Zavora,' says Didier Van den Spiegel, the RMCA echinoderm specialist who participated in the expedition.
'We collected more than 480 specimens of echinoderms by diving, snorkeling, and walking at low tide.'
The specimens were prepared on site. Once identified, they will be kept in the various partner institutions in Belgium and Mozambique.
The MaTaMo project: taxonomy and training
Van den Spiegel explains that this mission is the first phase of the MaTaMo project, Increasing Marine Taxonomic Knowledge in Mozambique: The Case of Two Neglected Taxa.
'This project is designed to study the taxonomy of Mozambican coastal algae and echinoderms and to train emerging Mozambican researchers in the collection, preservation, and study of specimens of these two taxa. During this first phase of the project, five early career scientists were trained.'
The second phase of the project, planned for 2019, involves the collection of specimens around Inhaca Island in the south, Pemba Bay in the north, and Quelimane in the centre. The latter two areas have been largely neglected by the scientific community as sampling sites.
The project's second phase will also continue to focus on the training of early career scientists.