Tervuren Series for African Language Documentation and Description
Description and documentation of African languages that have been poorly documented or undocumented to date.
Lexical and grammatical descriptions of varying length (glossaries, dictionaries, grammatical descriptions, grammars).
Annotated texts in African languages requiring analysis beyond language description alone.
Peer-reviewed publications.
Beginning in 2022, volumes are published as needed in either print or open access PDF versions.
> Consult the list of publications in this series
Submissions
Do you wish to submit a book to this series?
Send your proposal in French or English to:
maud.devos@africamuseum.be
> Instructions for authors (pdf 80 Kb, in French)
Volumes available in digital format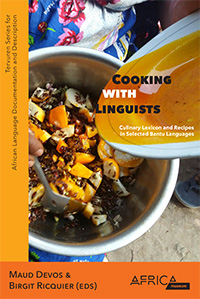 Pour obtenir une version imprimée et reliée, envoyez un e-mail à publications@africamuseum.be