Last seen in 1955: Prigogine's Nightjar, a bird from eastern DRC
Backed by Leonardo DiCaprio, Re:wild, the American Bird Conservancy (ABC) and BirdLife International have launched The Search for Lost Birds, an initiative to find 10 bird species that have not been seen for decades. Among these 10 species is Prigogine's Nightjar, a species described by an ornithologist from the AfricaMuseum and whose only known specimen has been kept in Tervuren since 1955.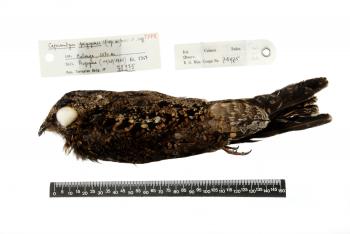 A specimen from 1955... described as a new species 35 years later
The Prigogine's Nightjar (Caprimulgus prigoginei) is a bird whose only known specimen was captured in 1955 by Alexandre Prigogine in the Itombwe Mountains, in the province of South Kivu in DR Congo. No confirmed sightings of this bird have been made since.
Although the specimen arrived in the museum's collections in 1955, it was only 35 years later that it was described as a new species.
'This specimen was registered in the collections under the name of a known species', explains Michel Louette, the museum ornithologist who described the species in 1990. 'However, when I studied the specimen, I came to the conclusion that it must belong to a different species. Indeed, it showed characteristics that had never been described before.' This is how Michel Louette described this new species of nightjar. He named it Caprimulgus prigoginei, after Alexandre Prigogine, who collected the specimen.
3D model of the only known specimen of Prigogine's Nightjar.
Top 10 most wanted
Prigogine's Nightjar is one of 10 bird species on five continents that an international research group wants to find. With the initiative The Search for Lost Birds, and with the support of actor Leonardo DiCaprio, the organisation Re:wild, the American Bird Conservancy (ABC) and BirdLife International want to support expeditions to find these birds, relying on the vast international network of professional and amateur ornithologists.
In addition to the fascinating (re)discoveries that these expeditions could bring, the main aim is to promote the conservation of birds and their natural habitats. Most of these birds come from regions rich in biodiversity, which are now under threat. The (re)discovery of a rare bird would stimulate conservation efforts.
Finding a bird that has not been seen for over 60 years?
Michel Louette believes that finding Prigogine's Nightjar is not impossible. 'It is a nocturnal and discreet bird. An accidental sighting is therefore unlikely and I do not rule out that the species still survives today.'
This would not be a first for Michel Louette. 'During an expedition in 2010 and 2011 to Katanga in DR Congo, we were able to find the Lufira Masked Weaver (Ploceus ruweti). This species, which I had described in 1982 as new to science, was known until then only from the single specimen captured in 1960 in the same region.'
Nevertheless, if an expedition is set up to find Prigogine's Nightjar, Michel Louette, now retired, will probably not take part. 'I intend to give way to the new generation of ornithologists', he concludes.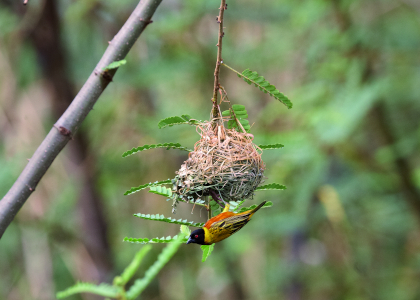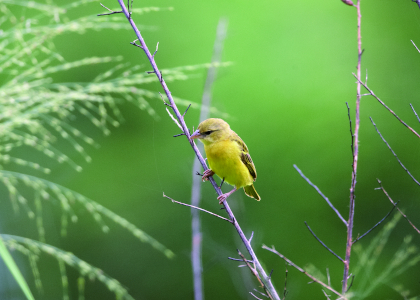 The AfricaMuseum's collection contains 150,000 bird specimens, including flat-skins, specimens preserved in alcohol, mounted specimens and skeletons. Approximately 250 species and sub-species of birds are represented by type specimens, i.e. specimens that were used to describe the species.