The actors of Congolese independence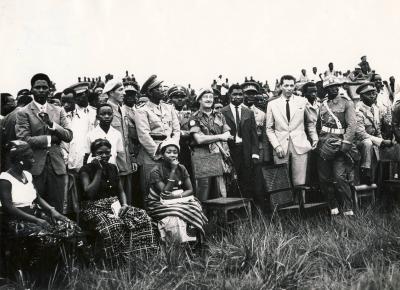 Theme:
military infrastructure, events
Photographer:
Joseph Makula
Place of production:
Belgium
Legend:
Mobutu was proud of his near family relationship with King Baudouin and the Belgian dynasty. He is welcomed by the King and the Minister of Foreign Affairs Pierre Harmel at the military airport of Melsbroek.
Acquisition related person:
Marc Gérard as donor
Original legend:
République du Congo. En présence des Commissaires Généraux, des membres du corps consulaire, diplomatique et des autorités de l'O.N.U., le Colonel Mobutu, Chef d'Etat-Major de l'Armée Nationale Congolaise, a organisé ce jeudi 17 novembre 1960, un défilé militaire, prouvant la force et la discipline de notre Armée. Plus de 5000 soldats ont participé à cette manifestation. Outre le défilé de ce matin au Boulevard Albert 1er, une exhibition de parachutage de 40 para-commandos congolais, lancés à 400 m d'altitude, s'est déroulée vers 15 heures, à la plaine de la N'Djili. Voici une vue prise lors de la descente des parachutistes. A l'avant-plan, assise à l'extrême droite, Mme. Mobutu. Au deuxième rang, on reconnaît de gauche à droite : MM.P.Mushiete, Commisaire Général-Adjoint aux Finances; derrière lui, A.Ndele, Vice-Président du Conseil des Commissaires Généraux et Commissaire Général-Adjoint aux Finances; le Colonel Mobutu, le Lieutenant-Colonel J.Bertiaume, assistant militaire à l'Etat-major de l'O.N.U. à Léopoldville; F.Lukusa, Commissaire Général-Adjoint à la Fonction Publique et Nussbaumer, Commissaire Général aux Affaires Intérieures.
Inventory number:
CP.2007.1.6