Les poissons du Parc national de Kundelungu (RD Congo)
Diversité et mesures de conservation
MuseumTalks
Dr. Emmanuel Abwe
The Kundelungu National Park, located in the south of the DR Congo, is home to a variety of aquatic habitats. Since its creation 1970-1975, its fish diversity has never been studied in detail. In this MuseumTalk we will speak about the diversity and distribution of fish in the park and its surroundings, as well as the anthropic threats to them. The inventory, made over a nearly 5 years period, revealed a diversity of 96 species of fish, of which 38 (±40%) are known only from the park and its surroundings. Unfortunately, this diversity is threatened by various human activities, including overfishing, through the use of destructive fishing techniques, and through habitat degradation, pollution (mining and agriculture) and deforestation of the river banks, especially.

About the speaker
Dr. Emmanuel Abwe is a lecturer and researcher at the University of Lubumbashi in the DR Congo. He holds a PhD in science on the theme of fish diversity and conservation in Kundelungu National Park. He obtained his PhD at KU Leuven in 2022 in collaboration with the Royal Museum for Central Africa (RMCA) and with the SNSB-Bavarian State Collection Zoology (Munich, Germany). He is also a collaborator of the RMCA within the framework of the MbiSa Congo II project. His research focuses on the diversity, ecology and conservation of freshwater fish in the Upper Congo Basin.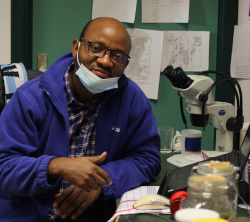 ---
MuseumTalks
Join us each month for exciting talks with experts, scientists and artists!

12.30 - 13.30
Price
Free, but registration is mandatory