Provenance of the collections
In a 'provenance trail' through its permanent exhibition, the museum highlights objects of diverse origins. This smartphone guided tour aims to provide a nuanced view of the complexities of acquisition, preservation, appropriation, accessibility and return.
The articles on this page provide more context and information about the provenance of the objects presented in the 'provenance trail'.
The trail and this series of articles are updated with the results of new provenance research.
A large part of Africa's material heritage is housed in Western museums or with private collectors. Some of those pieces were obtained by violent or unlawful means. In recent years, more and more voices have been raised in favour of transferring the illegally acquired part of Africa's heritage now in Western hands to the countries of origin.
The AfricaMuseum is currently prioritising provenance research to ascertain how objects were acquired. A residency programme enables African scientists to be involved in this research.
In addition, the museum has an open and constructive attitude towards the restitution debate. The RMCA's restitution policy was approved in early 2020.
Legally, the collections of the AfricaMuseum are the property of the federal state and therefore a decision on their ownership cannot be taken by the museum itself, but only by the Federal State Secretary for Science Policy.
---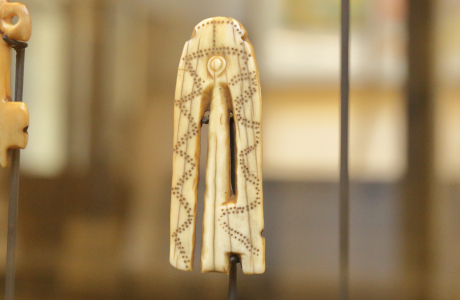 Pende whistle
20.07.2021
Captain-Commander Léon Rom (1860-1924) probably "collected" this whistle towards 1892.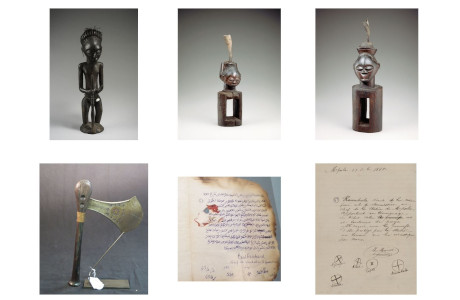 War trophies, ethnographic objects, and political documents obtained by the military officer Émile Storms
06.07.2021
This article studies the context of the acquisition of six objects and documents obtained by Lieutenant Émile Storms (1846-1918) that are now on display in the AfricaMuseum permanent exhibition.
---
The information in these articles is based primarily on resources available at the museum (archives, publications, etc.). The descriptions of these objects can thus always be expanded. Do you have comments, information, or testimonials to share about these or similar objects? Don't hesitate to contact us: provenance@africamuseum.be.
In the framework of the Taking Care project.