7 and 8 december 2018, Belgian Senate, Brussels
On 7 and 8 December, Action Zoo Humain, a theatre company run by Chokri Ben Chikha, brings a unique performance to the Belgian Senate : 'The Truth Commission'. RMCA historians and anthropologists participated in this show's creation.
The Truth Commission is a performance that combines theatre and an actual truth commission. Scientists, artists, witnesses, and the public seek out the truth regarding the exhibition of 'exotic' humans at the Brussels International Exhibition. A committee of historians, artists, experts and testimonies will examine whether the phenomenon of the 'human zoo' and the mechanism of stereotypical imaging that goes along with it are still topical issues. With the 'The Truth Commission', Action Zoo Humain wonders aloud whether many of today's debates did not originate in the colonial chapter of our national history. Relive this historic event and place yourself in the mindset of the organizers, the exhibited people and the curious visitors.
The performance (in Dutch and French) will take place in Plenary Session Room of the Belgian Senate on 7 and 8 December 2018. The performance is free, but reservation is required.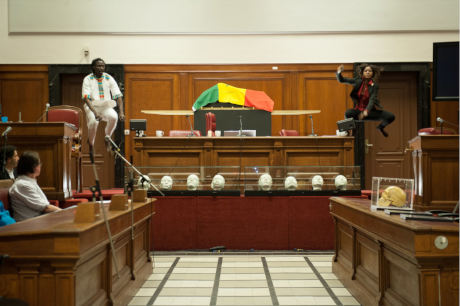 (c) Kurt Van der Elst