Three awards 'Digital for Development' 2018 for a video platform, mobile healthcare campaigns and an app for mobile money
An online video platform with training videos for farmers, mobile healthcare campaigns through gaming and an app for mobile money. These are the three winners of the Prize 'Digital for Development (D4D)'. 4 October 2018, deputy Prime Minister and Minister for Development Cooperation Alexander De Croo handed out the D4D-award – Digital for Development – a biannual initiative of the Royal Museum for Central Africa with the support of the Belgian Department for Development Cooperation and Humanitarian Assistance (DGD).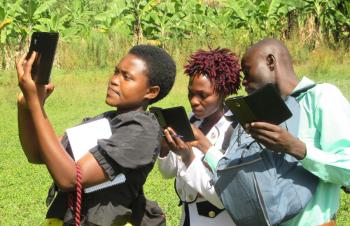 The winners
According to the jury, the online video platform Access Agriculture was the best success story in the categoryiStandOut. Using training video's in local languages, farmers from the South could learn sustainable agriculture technologies from each other.
The app WisePocket, a spin-off of the VUB & Universidad de Oriente in Santiago de Cuba, got the award for the most promising innovative idea in the category iStartup. Using interaction and gamification, this mobile app wants to make healthcare campaigns more effective and quantify their efficiency.
The crowd pleaser in the category iChoose was EIGHT, an initiative which allows residents of a town in Uganda to become "an agent of change" themselves through mobile money transfers without conditions.
We're singling out one winner below.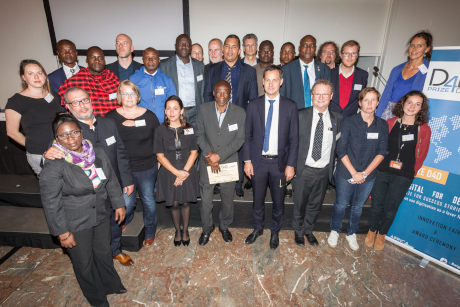 All the nominees with Minister Alexander De Croo and Guido Gryseels, General Director of the RMCA
© Kris Pannecoucke
Farmers from the South learn from each other through online video platform
The online platform Access Agriculture (accesagriculture.org) links farmers from the South to colleagues around the world to share know-how through training videos and this, often in their local language. Right now, about 1300 videos are available in more than 76 languages. Those are being watched in more than 100 countries and are especially popular in India and Africa.
However, the platform goes beyond offering cost efficient, qualitative and scientifically sound agriculture know-how to farmers in the South. Training of local partners in making and translating video's is as important.
Paul Van Mele from Access Agriculture explains that this philosophy separates them from other online video platforms such as YouTube and Vimeo. Videos can be watched on cellphones or other devices through online streaming and everything can be downloaded as well. The content is also easily distributed through local radio- an TV-stations in the local language. A 'smart projector' on solar energy, combining both a digital video library and a projector, manages to physically bring all this know-how to the field. 'With the D4D award we'll further invest in a fund for local entrepreneurs to improve the last mile delivery of our training video's', according to Van Mele.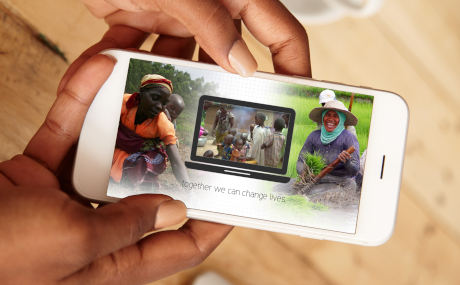 © Access Agriculture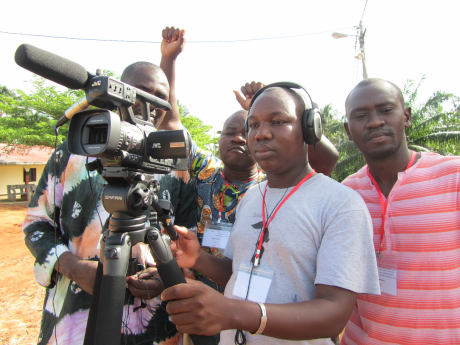 © Access Agriculture