Defence of Bauchet Katemo Manda's doctoral thesis
On 10 July 2020, Bauchet Katemo Manda (UNILU: DR Congo) publicly defended his doctoral thesis at the KU Leuven. This thesis on the diversity, ecology, conservation and sustainable management of the fish fauna of the Upemba National Park (UNP) has been funded by the Belgian Development Cooperation through two framework agreement projects of the Royal Museum for Central Africa. First, the MbiSa Congo I project (2013-2018) for sampling and writing of the manuscript. Then, by the MbiSa Congo II project (2018-2023) for the finalization of the writing and the defence.
This PhD thesis has significantly improved our knowledge of the fish fauna of the UNP, among others, by increasing the number of known species for the park from 160 to 235 species, thus confirming its status as a fish biodiversity hotspot in the Congo basin. With regard to fisheries in the park, this thesis highlighted, among other things, the major devastating role of fishing with mosquito nets, this in terms of its impact on the number of fish species, the quantity and biomass of fish, all of which have declined sharply. In addition, the depletion of game together with population growth in and around the UNP increase the anthropogenic pressures on the fish fauna of the UNP.
It is therefore time to reinforce the fight against illegal fishing for the entire UNP. In addition, for the areas of the park where fishing is authorized, the managers of the UNP, the customary authorities, and all the actors of the fisheries sector are invited to work in co-management. It is to be hoped that this thesis can give a new impetus to the protection/conservation and sustainable management of the fish fauna of the UNP. 
More information on Bauchet Katemo Manda's PhD in English or in Dutch.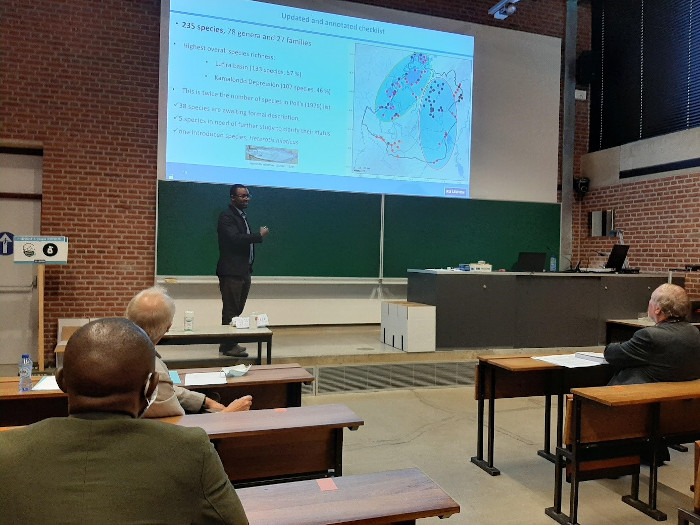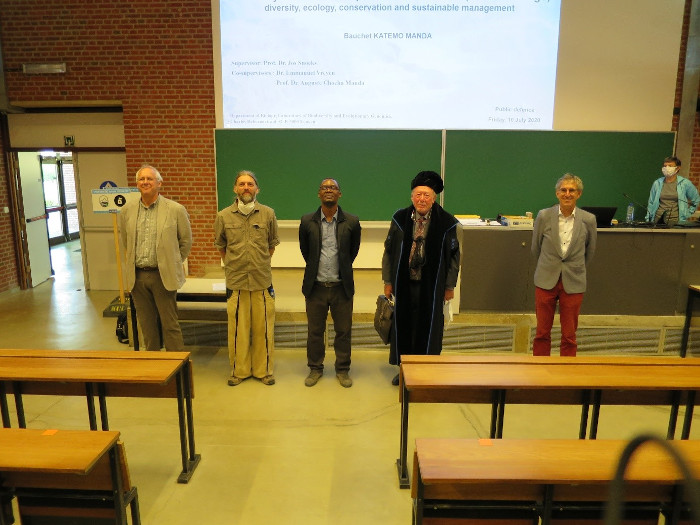 Restitution of Bauchet Katemo Manda's thesis at the Université de Lubumbashi: