132 years later, the male of a spider discovered at last
A scientific expedition led by the AfricaMuseum in Mayotte has collected for the first time the male of a spider species described over 130 years ago.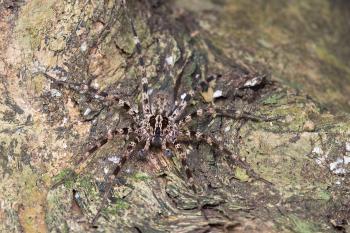 Vulsor bidens spider (male). © A. Henrard
In 1889, French arachnologist and ornithologist Eugène Simon described the spider Vulsor bidens, based on a female specimen from Mayotte.
'Since Simon's description of the species, only one scientific expedition had managed to collect other specimens', says Arnaud Henrard, arachnologist at the AfricaMuseum. 'During this expedition in 1999, my colleague Rudy Jocqué managed to collect several specimens. But the male of this species remained unknown.'
An expedition to study the spiders of Mayotte
In 2021, three researchers from the AfricaMuseum – Didier Van den Spiegel, Aurore Mathys, and Arnaud Henrard – carried out an expedition to Mayotte, at the request of the Direction de l'Environnement de l'Aménagement et du Logement (DEAL) of Mayotte. This expedition consisted of updating knowledge on the spiders of Mayotte, in order to publish a field guide on the arachnofauna of the island, planned for 2024.
'I knew the story of Vulsor bidens and I was determined to find this spider', says the researcher. 'So we searched for several days, including in Sazilé, the place where my colleague Rudy Jocqué had found the species, but without success. We suspected that the species might be nocturnal, but unfortunately it was impossible to work at night on this site. The other sites surveyed at night on Mount Combani were also unsuccessful.'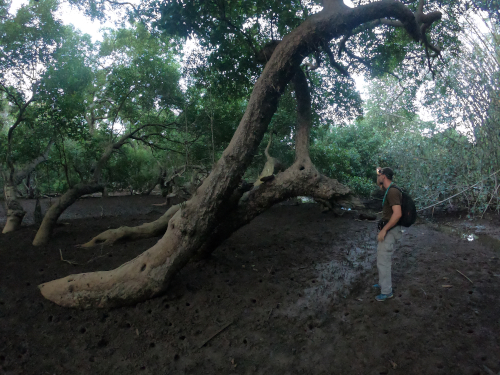 The mystery solved, thanks to a photo
'Towards the end of our stay, a colleague from the organisation ECO-MED (Ecology and Mediation) showed me some photos of spiders he had taken during his fieldwork. In one of his photos, I immediately recognised Vulsor bidens.'
'We then went to the place where he had taken the photo, a mangrove on the east side of the island that could be inspected at night. We quickly found the spider in question, in large numbers, including males', explains the researcher.
This mission to Mayotte has enriched the AfricaMuseum's collections with several male and female specimens of Vulsor bidens. 'This is all the more important as Vulsor bidens is the type species of the genus, i.e. it is the species that was used to describe the genus Vulsor. It is therefore important for the scientific community', concludes Arnaud Henrard.