Royal Museum for Central Africa joins the European Commission Global Coalition 'United for Biodiversity'
The Royal Museum for Central Africa has joined 200 other world institutions in an international campaign to raise awareness of the need to protect our natural environment, ahead of the Conference of the Parties (CoP) 15 meeting of the Convention on Biological Diversity in 2021.
"Biodiversity is crucial to the well-being of humankind. We must take urgent action to reverse biodiversity loss. By joining the Global Coalition, we add our voice to this promising movement to prompt world leaders to reach an ambitious agreement at the CoP 15 for nature and all of us", says Guido Gryseels, director general of the RMCA.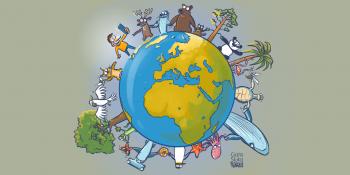 Global Coalition for Biodiversity
Science warns us that one million species are at risk of extinction within a few decades due to human activities. The Global Coalition '#UnitedforBiodiversity', launched in March 2020 by EU Commissioner for Environment Virginijus Sinkevicius, is calling on all world science and natural history museums, zoos, aquariums, research centres and universities, botanic gardens and national parks to raise their voices in support of nature.
By signing the Coalition pledge, the RMCA is proud to be the second federal museum in Belgium to join this coalition, after the Royal Belgian Institute of Natural Sciences. Since its launch, 205 institutions from 47 countries and 36 associations joined the Coalition #UnitedforBiodiversity. These include more than 70 natural history and science museums, such as the Natural History Museum in London, the Museum für Naturkunde in Berlin and the Muséum national d'Histoire naturelle in Paris. Other members and supporters include organisations like the Consortium of European Taxonomic Facilities (CETAF), TRAFFIC and 20 parks and reserves in Africa.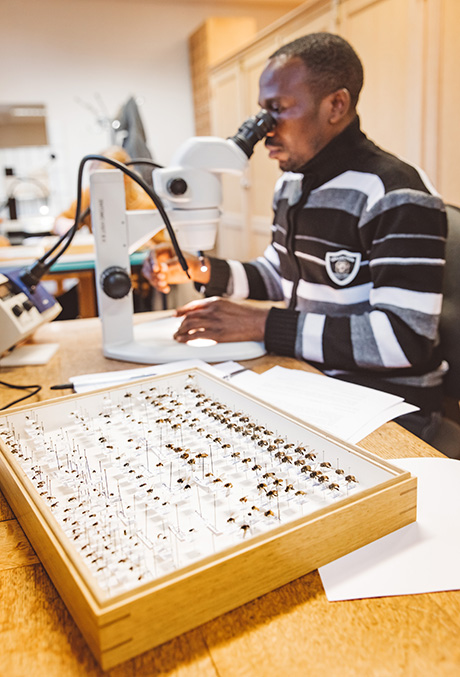 The Royal Museum for Central Africa: a museum and research centre on biodiversity in Africa
The RMCA supports biodiversity goals in various ways. Furthering knowledge of the rich biodiversity in Africa, home to an enormous variety of species and ecosystems of global significance, is a core mission of the RMCA. Together with numerous African partners, scientists map out this unique biodiversity and investigate the impact of humans on ecosystems. Areas of expertise include the taxonomy and phylogeny of different groups of vertebrates and invertebrates. Museum scientists also examine the forest ecosystems in Central Africa, in support of sustainable forest management, as well as the role of tropical forests in climate change. Scientists from the museum support CITES, the Convention on International Trade in Endangered Species of Wild Fauna and Flora, in various ways.
With 10 million zoological specimens and 80,000 wood samples, the RMCA's collection is a reference collection for international research on biodiversity. It preserves, digitises and provides access to this unique record of African biodiversity via online databases.
In its permanent exhibition, the AfricaMuseum presents the diverse African biomes and the interaction between humans, animals, plants and climate, and stresses the importance of dealing with this rich biodiversity in a responsible way. Through its activities and programmes, including recent webinars, the museum aims to raise further awareness of issues regarding biodiversity, as well as the central importance of biodiversity for the well-being of humankind.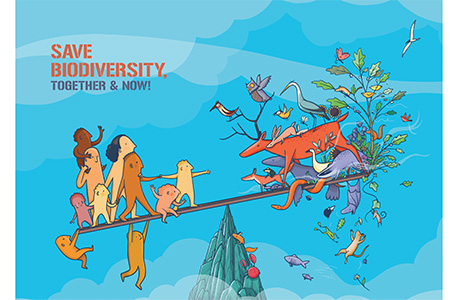 Belgian 'Together for Biodiversity' movement
The RMCA is also member of the Belgian 'Together for Biodiversity' movement (more information in Dutch/French), raising awareness of the importance of biodiversity and stimulating action for its preservation. The movement encompasses more than 100 partner organisations, including authorities, universities, NGOs, museums, and botanic gardens. With its current campaign – Biodiversity, together and now! Every m2 counts! – the movement is calling on everyone to create one (or more) square metre(s) of biodiversity to create a healthy planet for ourselves, our children, and our grandchildren.
We are stronger together
We call upon all members of the Belgian movement and all our partners around the globe to join our ranks in the important global initiative coordinated by the European Commission,  and to raise their voice for nature, which needs us like never before.