New publication: (Re)Making Collections Origins, Trajectories & Reconnections
Sarah Van Beurden, Didier Gondola & Agnès Lacaille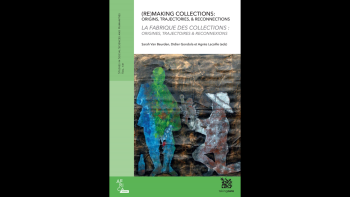 Provenance research on collections from the Global South in Europe is now unavoidable in the fields of museum studies and cultural policy, yet no scholarly work has scrutinized the collections of the Royal Museum for Central Africa in Tervuren (Belgium) as a whole. While the institution's history has been the subject of study, this book provides new frameworks for interpretation in light of current debates. Structured around two axes – the heritage field in historical and contemporary Belgian and Congolese contexts, and the more specific case of the Tervuren museum's collections –, this edited volume gives a broad overview, explores new trends, and presents the challenges facing museums today, with recent and unpublished research, interviews, and artistic contributions in English or French.
The editors
Sarah Van Beurden earned her Ph.D. in history from the University of Pennsylvania. She is an associate professor of History and African American and African studies at Ohio State University. 
Didier Gondola was trained as a social historian at the Université Paris-7. He is a professor of African History and Africana Studies at Johns Hopkins University in Baltimore.
Agnès Lacaille is an art historian and museologist (MA) specializing in the history of museum collections. She is a researcher with the Heritage Studies service of the RMCA.
More info
Available in the AfricaShop from 3 October and in bookstores from October.