Three scientists from the AfricaMuseum will help monitor the Nyiragongo volcano in Goma
Three scientists from the AfricaMuseum are going to help monitor the activity of the Nyiragongo volcano on site in Goma (Democratic Republic of Congo). They will do so with the support of the Belgian government, notably Ministers Meryame Kitir (Development Cooperation) and Thomas Dermine (State Secretary for Scientific Policy).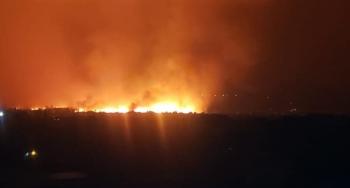 The situation around the volcano, which erupted on 22 May 2021, is currently very uncertain. There is still seismic activity and experts are not sure in which direction it will develop. Measuring and analysing data is therefore essential. This information can be used to determine when it will be safe for people to return to the city.
Scientists from the AfricaMuseum have been collaborating with the Observatoire Volcanologique de Goma (OVG) for 15 years, helping to improve the monitoring of volcanic activity in the Goma region since 2015. Currently, the Belgian experts, in collaboration with Luxembourg researchers, can play an important supporting role in analysing seismic activity data in support of the Congolese observatory. Their work will also help civil protection authorities to develop contingency plans. The researchers share the latest information on the eruption on their website on a daily basis.
According to Minister Kitir, it is now a matter of responding as soon as possible. "The Congolese authorities must be able to analyse the volcano's functioning as well as possible in order to make the right decisions. With this information, they can avoid unnecessary risks for the inhabitants. "
"The situation in Goma is not stable. Tens of thousands of people have fled the city for fear of another violent volcanic eruption. In order to give them the prospect of a safe return home as soon as possible, we are very happy to make the scientific expertise of the AfricaMuseum available," says State Secretary for Science Policy Thomas Dermine.