Staff directory
Jean-Paul Liégeois
Information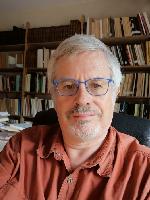 Department:
Earth Sciences
Division:
Geodynamics and mineral resources
Specialisms:
Saharan geology, particularly the Tuareg Shield
Email:
jean-paul.liegeois@africamuseum.be
Awards
- Laureate of the R. Shackleton Award 2008 of the Geological Society of Africa for "Outstanding research on Precambrian Africa".
- Officier de la Couronne (Officer of the Crown, Belgium).
- Médaille civique de Première Classe (2013)
- Laureate of the "Prix Lucien Cahen" 1987 of the Belgian Overseas Royal Academy of Science.
- Laureate of the "Concours Bourses de voyages" 1983 of the Belgian Ministry of National Education.
- Laureate of the "Prix Guyon" 1980 of the University of Liège.

Research
Topics:
- The post-collisional high-K calc-alkaline / shoshonitic granitoids and their transition to post-collisional and anorogenic alkaline to peralkaline granitoids.
- Relations between magma emplacement, shear zones, terrane movements and lithospheric thickness. Geodynamic reconstruction of Precambrian orogenies in Africa.
- Setup and development of the concept of metacraton.

Fieldwork areas:
The Pan-African orogeny (end of Neoproterozoic) in Saharan regions (Tuareg shield in Mali, Niger and Algeria; Anti-Atlas in Morocco, Egypt, Sudan). The Pan-African basement within Alpine nappes in the South Carpathians (Romania). The Birimian (c. 2100 Ma) juvenile terrains of West Africa (Mali, Niger).
Since 2003, the main targets are the Tuareg shield and the Anti-Atlas.

Main methods:
- U-Pb, Sm-Nd, Rb-Sr geochronology; Sr, Pb and Nd isotope geochemistry; major and trace element geochemistry.