The human zoo of Tervuren (1897)
AfricaMuseum traces its origins to the International Exhibition in Brussels in 1897. At the instigation of King Leopold II, a 'Colonial Section' was set up in Tervuren to win over investors and the Belgian population and glean support for the colonial project in Congo. No fewer than 267 Congolese were taken by force to Belgium and exhibited to the public, like animals in a zoo. Seven of them lost their lives. Far from being an isolated case, this appalling spectacle was part of a genuine industry that fed the racism still seen in Western societies today.
HP.1946.1058.1-32, collection MRAC Tervuren ; photo A. Gautier, 1897
Propaganda for the colonial project
The 1897 Brussels International Exhibition took place from 10 May to 8 November 1897.
On this occasion, King Leopold II had the 'Colonial Palace' (now the Africa Palace) built in Tervuren on the site of the former pavilion of the Prince of Orange, which had been destroyed by fire in 1879.
Fitted out in art nouveau style, the exhibition rooms of the Colonial Palace housed mounted animals, geological samples, Congolese and European economic products, foodstuffs, Congolese ethnographic and artistic objects, and works of art made in Belgium.
Leopold II viewed this colonial section as a propaganda tool for his colonial project, one that would attract investors and convince the Belgian population of its importance.
In addition to the Colonial Palace, numerous attractions were installed in the park of Tervuren, including a monorail (reaching a top speed of 150 km/h), a hippodrome, a velodrome, and a sports field where athletics and gymnastics competitions were held.
The Avenue de Tervuren and the tram line connecting the Cinquantenaire park to the Tervuren park were also built for the occasion.
Congolese 'villages'
In the Tervuren park, three fenced 'villages' were created near the ponds: two 'Bangala villages' and one 'Mayombe village'. A total of 267 Congolese men, women and children were forced to come and occupy these villages.
Among the Congolese sent to Belgium were 90 soldiers from the Force Publique (an armed force composed of 'natives', performing police and army functions for the Congo Free State). They had to perform in concerts and parades for the public.
In the park was a fourth village, the 'village of Gijzegem', named after the Flemish commune where Abbot Van Impe 'educated' and 'civilised' young Congolese people. This abbot wanted to show and promote his 'civilising' work, proving that it was possible to educate the colonised.
A heavily criticised success
By the end of the international exhibition, the colonial section of Tervuren alone had attracted more than a million visitors.
Although the exhibition took place from 10 May to 8 November, peak visitor numbers occurred between 27 June and 30 August, which corresponds not just to the summer months but also to the dates of arrival and departure of the Congolese. Visitors sometimes numbered as many as 40,000 per day.
Nevertheless, as soon as the Congolese arrived, some observers criticised the event and the behaviour of the visitors. For example, Le National wrote on 10 July 1897:
Ils sont là, nos futures frères noirs […], étroitement gardés par leurs propres frères à eux – nos vaillantes troupes d'Afrique – […] annexionnistes trop zélés. Ils sont là, bénéficiant d'un décor merveilleux, donnant l'impression, dans leur vie en plein, - réglée comme pour un spectacle forain – d'un Congo de fantaisie avec des simili-villages créés pour faire pendant au Palais de la Réclame Noire, en face.
[There they are, our future black brothers [...], closely guarded by their own brothers - our valiant African troops - [...] overzealous annexationists. They are there, benefiting from a marvellous décor, giving the impression, in their life in the middle of it, - set up as if for a fairground show - of a fantasy Congo with pseudo-villages created as a counterpart to the Palace of Black Advertising, opposite.]
The author concludes his article with these words:
Il y a même quelque-chose de passablement dégradant pour l'humanité, à voir ces malheureux ainsi parqués, livrés aux réflexions parfois navrantes et dégradantes aussi, des blancs qui accourent au nouveau spectacle.
[There is even something quite degrading for humanity, to see these unfortunate people parked like this, left to the sometimes distressing and degrading reflections of the white people who are rushing to the new show.]
A deadly exhibition
The summer of 1897 was cold and wet. Kept in deplorable conditions, many of the Congolese fell ill. Seven of them died during the exhibition. Their names, no doubt incomplete, were noted: Sambo, Mpemba, Ngemba, Ekia, Nzau, Kitukwa, and Mibange.
Following their deaths, their bodies were refused for interment in the local cemetery. Instead, they were buried in unconsecrated ground, destined for adulterers and suicides. It was not until 1953 that their bodies were moved to burial grounds in the courtyard of the Catholic Church of St. John the Evangelist in Tervuren. Nowadays, a day of commemoration is organised every year for the 7 deceased.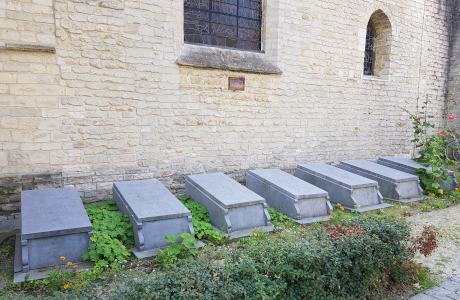 The death of the Congolese triggered a controversy in Belgian society which was widely reported in the press.
For the organisers, the Colonial Section of Tervuren nevertheless remained a great success and in 1898 the Colonial Palace was transformed into a permanent museum of the Congo. Very soon the building proved too small. Leopold II then called on the French architect Charles Girault and planned the construction of a new Congo museum, a world school, a congress centre, a railway station, etc. In the end, only the museum was built, inaugurated in 1910 by Albert I, a few months after the death of Leopold II. It is the current building of the AfricaMuseum.
Not an isolated case
The human zoo of Tervuren was part of a Western culture of exoticism. These exhibitions of the "Other" began in Europe in the middle of the 19th century. Fairs, circuses, cabarets, universal or colonial exhibitions, itinerant villages: exoticism was all the rage in Belgium, France, the United Kingdom, the Netherlands, Germany, Switzerland, Italy, Spain, Austria, but also in the United States.
In Belgium, the first colonial exhibition was organised in Antwerp in 1885. A 'Negro village' was created, presenting 12 Africans from Congo, Zanzibar, and Portuguese colonies to the public.
In 1894, a new world exhibition was held in Antwerp, this time showing 144 Congolese in an 'exotic' setting. Eight people died during the exhibition.
One of the reasons for the success of these 'shows' was that the organisers presented them from a civilising perspective. The aim was to show that Europe had a duty to bring civilisation to these 'savages'. Human zoos reinforced this idea in public opinion.
By presenting dark-skinned people as inferior, the West wanted to show its superiority and burnish its own image.
Expo 58
Another 'Congolese village' was built for Expo '58 in Brussels. The exhibition area reserved for the Congo was enormous. Belgium wanted to promote its achievements and justify its presence in the Congo at a time when calls for independence were making themselves heard.
More than 600 Congolese arrived in Belgium and during the day, 120 of them were exhibited in the 'Tropical Gardens'. At night, they were housed in the CAPA building (Centre d'Accueil pour le Personnel Africain) in Tervuren, far away from the city and its temptations. The CAPA building now houses some of the museum's libraries, collections, laboratories and offices.
But the presence of this village and the racist and humiliating behaviour of the visitors shocked and provoked controversy and complaint, especially from Congolese students and intellectuals living in Belgium. Many of the 'craftsmen' decide to leave the village, which closed well before the end of the exhibition.
Expo 58 also claimed a Congolese victim. Eight-month-old baby Juste Bonaventure Langa died during Expo 58. The cause of his death is unknown. He rests in the Tervuren cemetery.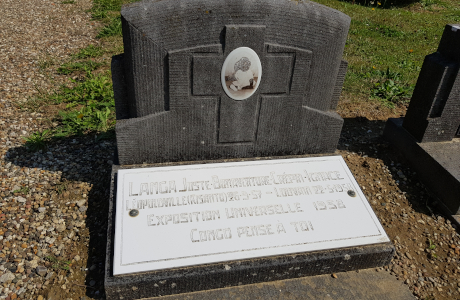 A bygone era?
In total, this veritable exoticism industry reached nearly 1.5 billion visitors between 1810 and 1940, exhibiting more than 30,000 people. The presence of these exhibitions in popular culture undoubtedly contributed to the racism that can still be seen in Western societies today.
Unfortunately these extremely degrading and racist practices still exist. In 2002, an event organised in Yvoir in Belgium triggered a controversy, as it was so reminiscent of human zoos. In the Rainforest Park, where animals are usually exhibited, a group of Baka Pygmies from Cameroon were invited to perform dances and songs for visitors to the park.
Even today, many TV shows still exhibit 'wild tribes'. Has the thirst for exoticism and voyeurism of the Other really disappeared?
---
This article was largely based on two publications:
Blanchard, P. & Couttenier, M. 2016. 'Les zoos humains en Belgique'. Zoos humains. L'invention du sauvage. Liège : Centre d'Action Laïque de la Province de Liège, pp. 35-44.
Wynants, M. 1997. 'Des ducs de Brabant aux villages congolais, Tervuren et l'exposition coloniale de 1897'. Royal Museum for Central Africa.
See also:
"Boma-Tervuren, le voyage", 1999 documentary by Francis Dujardin.
Van Beurden, Sarah. '"Un panorama de nos valeurs africaines". Belgisch Congo op Expo 58'. In Congo in België. Koloniale cultuur in de metropool, edited by Bambi Ceuppens, Vincent Viane, and David Van Reybrouck, 299–311. Alfred Cauchie Reeks. Leuven: Universitaire Pers Leuven, 2009.