Journalist in residence
28 August - 26 September 2021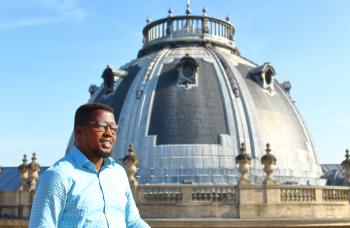 Aged 31 years and born in Rwanda, Prudence Nsengumukiza is a professional Rwandan Journalist with Bachelor's Degree in Law (LLB) acquired from University of Rwanda in 2014. He has also a diploma in Legal practice, received from Institute of Legal Practice and Development (ILPD) in 2021.
He served for Radio Salus, a university of Rwanda radio station from 2012 until 2016. He is now a journalist in Kigali Today platforms KT Press (English website) KT Radio and Kigali Today (Kinyarwanda website).
His primary responsibilities at Kigali Today are: writing the stories related to History and Culture, Legal reporting: Covering and editing the stories related to court verdicts, legal trends, Human rights, domestic laws and international laws, content creator, producing documentaries on different features as a script writer and a narrator.  
Besides being a professional journalist Prudence is a lawyer skilled in Legal drafting, Corporate Law, contract management, drafting of administrative documents, International Law, labor law and Intellectual Property, Strong in negotiation and advisory on dispute settlement.
Prudence is a member and legal adviser of AJSPOR (Rwanda Sports' Journalist Association), German nonprofit organization MIGRATION HEUTE official representative in the region of great lakes (Rwanda, Burundi, Tanzania, Kenya, Uganda, South Soudan, and DRC).
Prudence Nsengumukiza: 'My objectives for my residence at the AfricaMuseum are:
To get the opportunity to meet and discuss with many experts so as to expand the network in order to continue to strive for the preservation of African Heritage.
To find the experience in collecting information related to museum and scientific research reporting.
To help the Rwandans and other Africans to know the History of Africa during colonial period, and the activities of Africa Museum in preserving African Heritage.
To encourage Rwandans and other Africans to visit Africa Museum.'
Articles published during the residence: