The drone revolution in volcano research
The use of drones in science is increasing rapidly. Particularly in the field of volcano research and monitoring, drones offer unparalleled potential.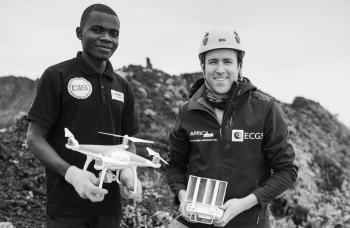 Fidèle Amani and Benoît Smets use a drone to study the Nyiaragongo volcano in the DR Congo. © Léonard Pongo
For volcanologists, Unoccupied Aircraft Systems (UAS, commonly known as drones) are becoming key instruments for fundamental research and for monitoring volcanoes. The use of drones provides safe, rapid and affordable access to previously inaccessible and hazardous locations.
Drones can go where men cannot go
Scientific research into one of the most hostile places on earth is hampered by many physical barriers. Because field research is risky, researchers often study volcanoes from the air via helicopter flights, for example.
"Thanks to a remotely controlled drone, we can approach areas of an active volcano that are otherwise very difficult to access, or even completely inaccessible, such as a lava lake for example," explains geologist Benoît Smets (RMCA).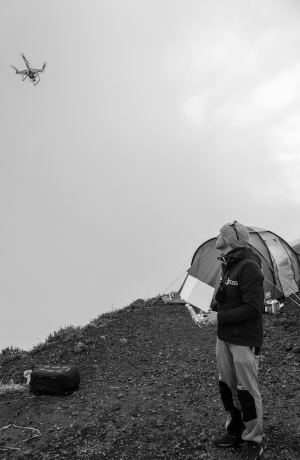 Take a closer look
Volcanoes can be studied through different types of images: with optical or infrared images, 3D models or thermal images, which allow visualization of volcanic activity. Researchers often use data from satellites for this purpose.
But drones offer many advantages. Benoît Smets: "With drone images we obtain a much higher resolution, which allows us to observe an area with a precision of a few (tens of) centimetres. Moreover, we can look in many more directions than just from above. In this way we can also visualize the volcano walls in detail, or other vertical elements that are not clearly visible on satellite images. The image acquisitions are also performed below the cloud cover, and we can avoid that the emission of volcanic gases obscure these images, as is sometimes the case with satellite imagery".
Measuring and sampling in the danger zone
Although the scientists of the RMCA's GeoRiskA team specialize in optical imaging, drones can also be equipped with devices to measure gas composition or take samples of water, sediment or rock. Thanks to the drones, these measurements and samples can be taken in optimal locations, such as in the volcanic vent or gas plume.
We expect the drone revolution to bring about major advances in our understanding of the complex physical processes in volcanoes
Revolution in research and monitoring
On top of the new possibilities in terms of access and imaging, drones have the important advantage that they cost much less than research missions via helicopters, for example. Therefore, drone research can be carried out much more frequently. Smets: "Because of all these elements together, we expect the drone revolution to bring about major advances in our understanding of the complex physical processes in volcanoes." The researcher also points out that drones can also play a key role in monitoring volcanoes before, during and after eruptions, precisely because they are so easy and quick to deploy.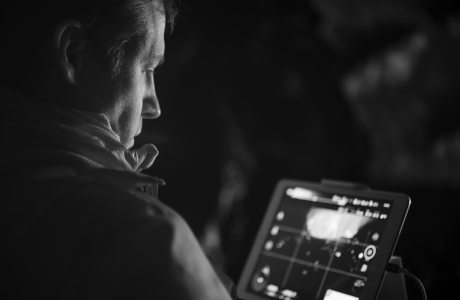 © Léonard Pongo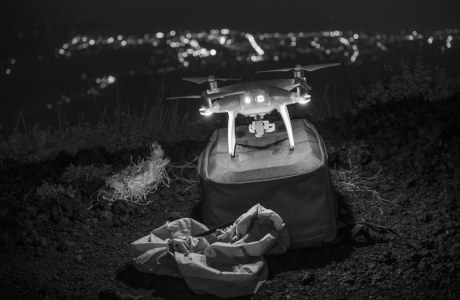 © Léonard Pongo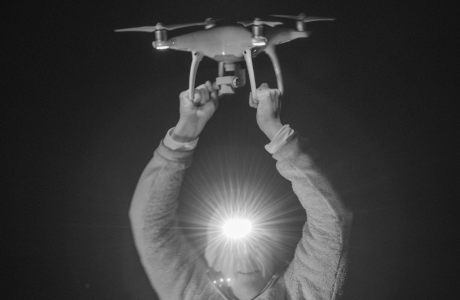 © Léonard Pongo
More info
Scientific article: James, M. R., Carr, B., D'Arcy, F., Diefenbach, A., Dietterich, H., Fornaciai, A., Lev, E., Liu, E., Pieri, D., Rodgers, M., Smets, B., Terada, A., von Aulock, F., Walter, T.., Wood, K. and Zorn, E. (2020) "Volcanological applications of unoccupied aircraft systems (UAS): Developments, strategies, and future challenges", Volcanica, 3(1), pp. 67-114. doi: 10.30909/vol.03.01.67114.