Museum collections in 2D+ and 3D
The importance of digitising museum collections became even more apparent during the closure of museums due to the COVID-19 pandemic. Digitisation experts Jonathan Brecko and Aurore Mathys (RMCA/RBINS) published a best practice handbook for 2D+ and 3D digitisation of natural history collections.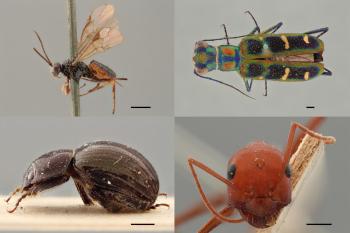 Digitisation: not a piece of cake
Museums house a wide variety of objects in all shapes, colours and sizes. Natural-historical specimens are pinned up, are placed on a microscope slide or are stored in an ethanol solution. They are sometimes colourful, sometimes translucent, or very shiny.
Capturing such diversity successfully on camera is not a piece of cake. Each type of object requires a tailor-made approach.
A practical handbook
"With this handbook we offer an overview of the possible ways to digitise natural history specimens and cultural heritage objects. We discuss the pros and cons of each technique, and for which type of object it is most useful," says Jonathan Brecko.
The book is easily accessible and is also intended for readers without prior knowledge who want to start a digitisation project. "That is why we also present costs and workflows, so that readers can get straight to work" continues Brecko.
Digital imaging enables researchers to gather new information about the specimen that cannot be derived from the original
Digital twins
Although a digital copy never fully replaces the real object, a good 'digital twin' offers excellent research possibilities. Thanks to a very high resolution photograph, specimens do not have to leave the well-conditioned, secure and optimal storage facility and are therefore not exposed to the dangers of manipulation and transport.
Digitising collections is also key to their long-term preservation, even after the physical objects are no longer available.
I see what you don't see
In addition, digital imaging enables researchers to gather new information about the specimen that cannot be derived from the original. "A 3D model, for example, allows for a better evaluation of the spatial structures and calculations of surfaces and thicknesses. Such new research techniques were not possible with the 'real' objects," explains Aurore Mathys.
Another example is multispectral photography. "We photograph under different bands of the light spectrum, such as with UV and infrared light", explains Mathys. "This allows you to see things that are invisible under normal, white light, such as mould or moisture damage, previous restorations or the composition of materials and layers of paint in the case of heritage objects".
Online and in the museum
Numerous objects from the RMCA collection have already been published online by the digitisation team and can be viewed on various platforms (DIGIT and Sketchfab).
When the museum reopens its doors, visitors will also be able to admire and hold in their hands some 3D printed models of snake skulls.
The handbook is available online and was published in the Collection Management series of the European Journal of Taxonomy, a scientific international peer-reviewed journal. Since 2011, the RMCA has been part of the consortium of natural history museums and botanical gardens that finance and publish this journal.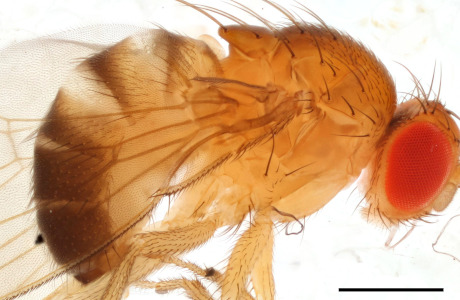 Detail of a specimen in ethanol (
Drosophila sp.
) Scale = 500 μm.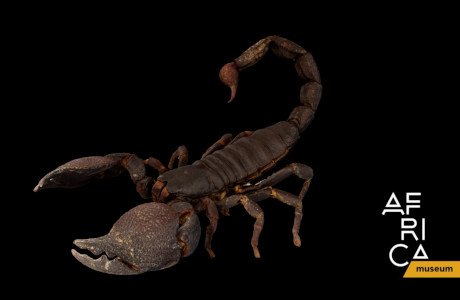 Example of a
3D model
of an emperor scorpion (
Pandinus imperator
)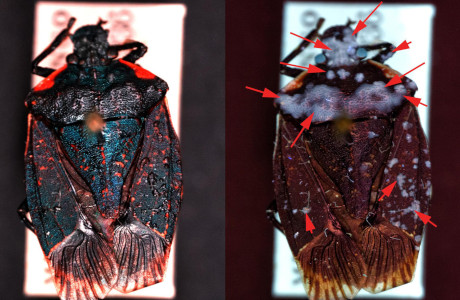 Specimen of the Pentatomidae,
Halyomorpha sp.
Left in white light, right under UV-light. The red arrows show the parts that are affected by mould, only visible with the UV light.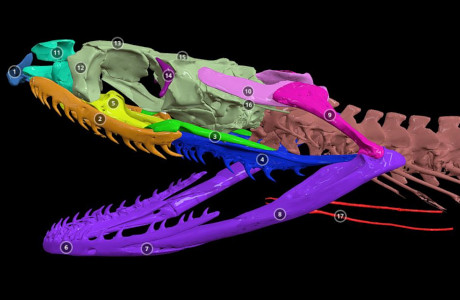 Annotated
3D model
of a grass snake skull.
More info
Brecko J. & Mathys A. 2020. Handbook of best practice and standards for 2D+ and 3D imaging of natural history collections. European Journal of Taxonomy 623: 1-115. https://doi.org/10.5852/ejt.2020.623