Mining archives transferred to Rwanda
The RMCA archives containing data on geology and mining in Rwanda have been digitized and transferred to the latter. This transfer is part of a two-year collaboration between the RMCA and the national geological service of Rwanda to strengthen geological research in the country.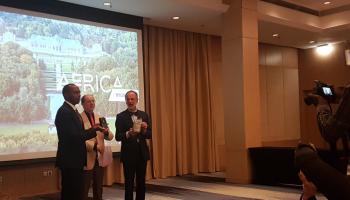 Handover of two 14-terabyte hard disks with the digitized geo-data to the Rwanda Mines, Petroleum and Gas Board
Archives with geo-data
In 2018, the RMCA started a collaboration with the Rwanda Mines, Petroleum and Gas Board (RMB) to transfer data on Rwandan geology and mining contained in the archives of the Earth Sciences Department to that country's national digital archive.
To this end, a digitization campaign was launched of the geo-data collected by the Belgian administration and private companies during the colonial period and archived in Tervuren. 'These "historical" data are still of great geological relevance today. The documents include geological and mineralogical maps and reports of prospections in the past,' explains geologist Max Fernandez-Alonso (RMCA).
These "historical" data are still of great geological relevance today
New fieldwork
'Together with Rwandan geologists, we also undertook fieldwork in the west of the country to fill known gaps in geological history. Thus, at Rwanda's request, we updated a geological map on a scale of 1/100,000: the existing version from 1990 was completed with new field data and adapted to today's geological concepts and paradigms.' These data are now also available in digital GIS format.
14 terabyte hard disks
At a ceremony in Kigali on 28 February 2020, the final deliverables of the cooperation were officially handed over to the Rwanda Mines, Petroleum and Gas Board: two 14-terabyte hard disks containing all the digital information, ready for import into the Rwandan national data system.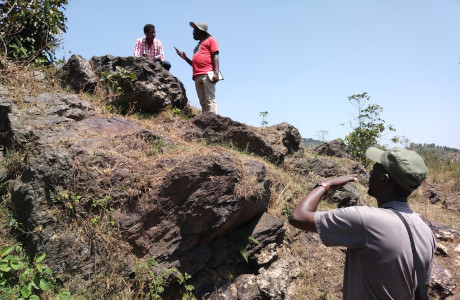 Broad cooperation and training
However, the cooperation between the museum and the RMB goes beyond the simple transfer of data. Early-career Rwandan geologists were trained in various techniques, such as cartography, sampling and the use of GIS during joint fieldwork and seminars on the geology and mineral resources of Rwanda. '25 early-career scientists now have a training certificate equivalent to a university master class in Rwanda's geology and metallurgy,' says Max Fernandez-Alonso.
This collaboration, financed by Enabel (the Belgian technical cooperation agency), is the Belgian contribution to the 'Sustainable Development of Mining in Rwanda' project (SDMR) supported by the British International Development Cooperation Agency (DFID). At the request of RMB, the cooperation will continue in the coming years. A new two-year project is currently being negotiated with Enabel and the Rwandan authorities.