Improving wood product inspections
On 22 September 2017, the Wood Biology service trained a group of inspectors from the federal Environment service in wood identification, giving them the skills to identify and seize illegal wood shipped to Belgium.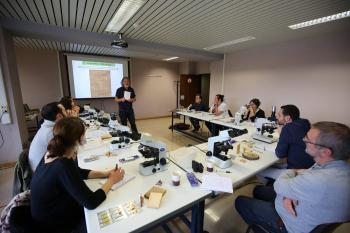 The Convention on International trade in Endangered Species of Wild Fauna and Flora (CITES) aims to ensure that trade in specimens of wild animals and plants does not threaten their survival.
Belgium's federal Environment service has an inspectors unit tasked with enforcing CITES provisions.
Some traders try to import illegal wood by mentioning other (legal) species on official documents.
Among the species CITES protects are several tree species that are endangered because of excessive logging. The EU Timber Regulation (EU-TR) also prohibits the trade of illegally harvested timber on the EU market.
'We are sometimes contacted by customs, when they have doubts about a shipment that arrived at the port of Antwerp for instance,' said Bruno Cachapa Bailarote, the unit coordinator. 'The timber contained in the shipment does not always match the species mentioned in the paperwork. Some traders try to import illegal wood by mentioning other (legal) species on official documents. But we can't always identify the species ourselves.'
To address this gap, the inspectors unit contacted AfricaMuseum's Wood Biology service. Wood specialist Hans Beeckman provided training on wood identification. 'We regularly work with the authorities', he explained. 'For example, we developed wood identification keys based on anatomy that inspectors can use in the field.'
'We can contribute to the enforcement of legislation to protect tropical forests (CITES, EU-TR) thanks to our xylarium, a unique scientific reference collection,' Beeckman added. 'The Tervuren xylarium has 70,000 wood samples from 13,000 different species, making it one the most important collections in the world.'