Extinct Giant Earwig returns to St Helena after 56 years
The now extinct St Helena Giant Earwig was the largest earwig in the world. At the request of the St Helena National Trust, the St Helena Government and the St Helena Museum, the AfricaMuseum donated a specimen of this iconic insect to the Museum of St Helena, where it is now on display.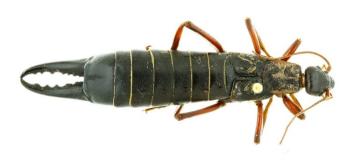 This specimen is the last to have been seen alive. S. Hanot © RMCA
An earwig of 8 cm
The St Helena Giant Earwig (Labidura herculeana) was officially declared an extinct species in August 2014.
It was the world's largest known earwig, with sizes reaching 8 cm.
The earwig was endemic to the island of St Helena. In other words, it was found only there, 2,000 km from the African coast, in the middle of the Atlantic ocean.
The AfricaMuseum holds some 40 specimens, including the last individual to be observed alive on 24 May 1967 during a scientific expedition carried out by the museum on the island.
In the decades following this expedition, fragments of individuals were found, but this magnificent insect was never seen alive again.
Several hypotheses have been advanced to explain its disappearance: habitat destruction, predators such as rodents and an invasive species of centipede (Scolopendra morsitans) that fed on the earwig, etc.
A specimen returns to St Helena
Prior to the arrival of the AfricaMuseum specimen, there was only one degraded specimen of the Giant Earwig on St Helena, where the pincers have been separated from the abdomen.
'The St Helena Giant Earwig is an iconic species on the island', says Martina Peters, Head of Conservation of the St Helena National Trust. 'The specimen donated by the AfricaMuseum has enormous cultural value to the St Helena community and also benefits for education and science purposes.'
'Before the specimen was returned to St Helena, only the AfricaMuseum and the Natural History Museum in London had specimens of this earwig', explains Didier Van den Spiegel, scientist in charge of the AfricaMuseum's zoology collections. 'But while London has only one specimen, we have a series of very well preserved specimens in our collections.'