Smartphone app helps identify fruit flies of major economic significance in Africa and Europe
Fruit flies can cause considerable damage to agricultural crops. The correct identification of pest species is crucial to establish efficient pest control programs. A smartphone app developed by biologists of the Royal Museum for Central Africa in collaboration with Stellenbosch University (South Africa) can help non-specialists identify these potentially harmful fruit flies.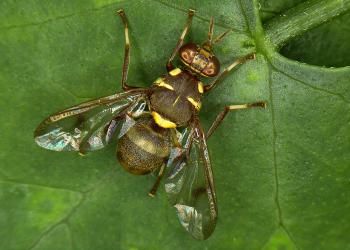 Dacus demmerezi. One of the main fruit fly pests found on wild and cultivated cucurbits. © A. Franck (CIRAD)
Key to a more efficient monitoring and control of pest species
Fruit flies can incur severe losses in agriculture. In Africa, the cultivation of fruit and vegetables is greatly hampered by these insect pests. It is important to know exactly which fruit fly species is found in an orchard, or on a cargo of imported fruit. It will then determine the strategy with which the pest species can be effectively controlled in order to minimise crop losses, or to prevent the introduction of invasive species.  
'A correct identification, however, requires expert taxonomic knowledge, which is not always available. With this app, which is available free of charge, we literally want to provide people involved in monitoring programs or farmers with a 'key' to this', explains entomologist Marc De Meyer (Royal Museum for Central Africa).
The team has put together two different apps. One deals with an identification key to fruit flies of economic importance to the agriculture and horticulture in Sub-Sahara Africa. The other provides a key for a selection of fruit flies that are considered of significance for quarantine measures in the European Union.
Identifying potentially harmful fruit flies with a smartphone app
Through the interactive identification keys users answer a series of questions about the visible characteristics of a fruit fly specimen. Images and illustrations guide users where to look for distinguishing morphological traits and how they look like, such as colours and shapes of body parts. The answers provided by the user gradually eliminate the options until the fruit fly species is identified.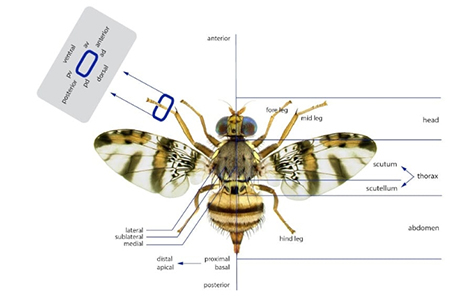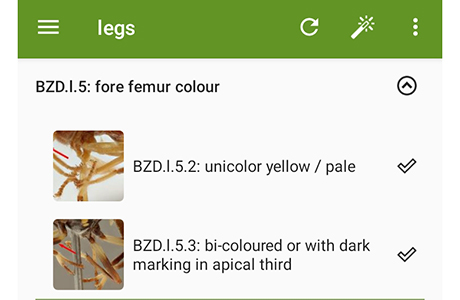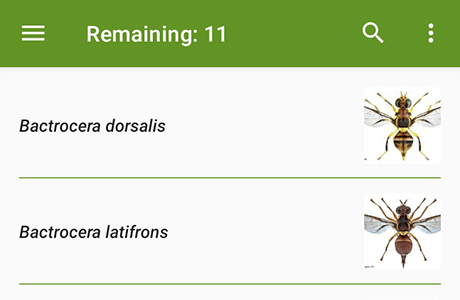 Screenshots from the app: images and illustrations guide users where to look for distinguishing morphological traits and how they look like, such as colours and shapes of body parts.
All information in one place
The apps offer more than just help with the identification. Condense fact sheets provide more information on each species covered in the apps. Users learn more about for instance the fruit fly's lifecycle and about which crops are its possible 'targets' (host plants). They are also informed about the best practices for monitoring and management of the pest species. Also, links to more extended information sources are included for each species.
'We want to bundle all the latest and most important information in one place, with numerous references to further information that is currently scattered around', says Marc De Meyer.
The interactive identification keys were developed  within the framework of two projects: