Sarah Carlier - Shama Bongo - Rokia Bamba
Musical readings with Shama Bongo (vocals), Sarah Carlier (vocals/guitar) and Rokia Bamba (slam)
Three artists who, like those sharing their creations in the exhibition Europa, Oxalá, grew up in Europe with the heritage of their own culture. These artists, inspired by the productions on display, offer a travelling creation with multiple sounds and energies.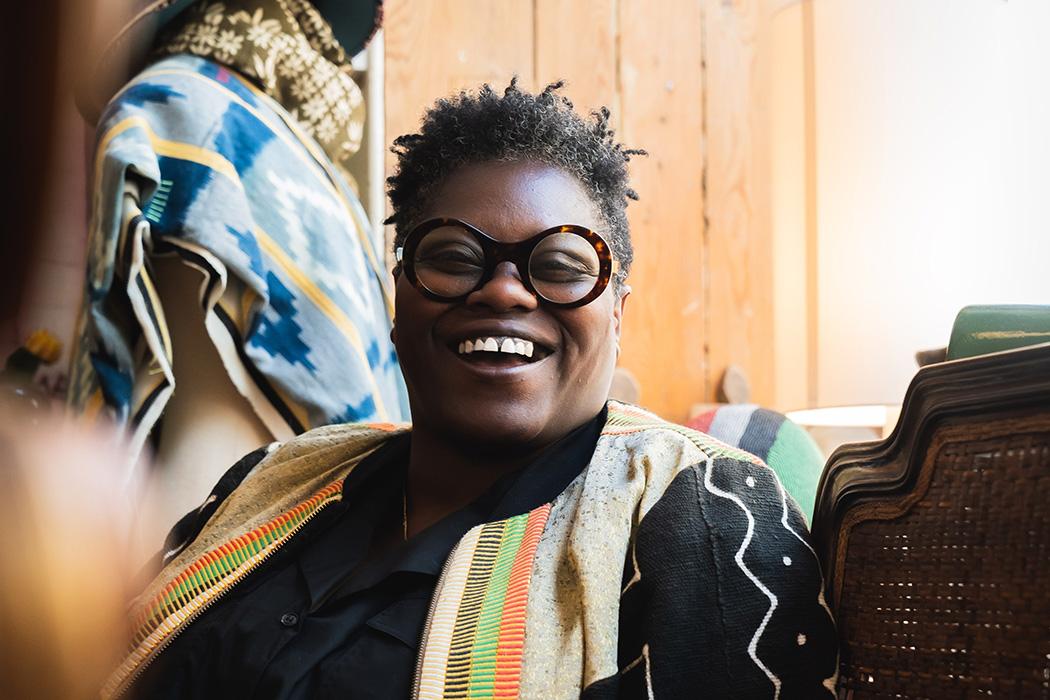 Sarah Carlier, born to a Belgian-Congolese father, professional guitarist, and a Chadian mother, poet and writer, finds in musical creation a way of expression and openness to others. After three albums, including a live album recorded during a concert at Studio 1 in Flagey, a fourth opus entitled Shy Girl emerged, on which Sarah took flight and rediscovered her foundations: her voice, warm and enchanting, filled with a solar groove, her spontaneity and her creativity. Sarah takes advantage of the confinement to take a break, compose and take time to create new sound textures.  
Strongly inspired by the concept of interdisciplinarity, Sarah is currently working on several projects and collaborations with, among others, the Royal Museum of Fine Arts in Antwerp in the "Artists in Residence" programme and the AfricaMuseum in Tervuren where she is currently researching a project on identity.  
Nicole Bongo Letuppe alias Shama Bongo has been performing and collaborating on numerous projects and albums for 20 years: Hubert-Félix Thiéfaine, dEUS, Baloji, Fredy Massamba, Arno, Karavan, Mustii, ... An unclassifiable personality with a warm and powerful voice, she touches our soul with her generosity. Her solo EP Mosi, released in 2019, gave her the opportunity to return to her roots and her mother tongue. This EP is an expression of everything she stands for, everything she 
she lives and perceives with one foot on the Old Continent and the other on Mother Earth. A kind of rewind between today and the day she left her native Congo Brazzaville as a child. This new project, which also has its roots in Africa to associate, mix, share and sublimate through different artists and artistic supports, is thus a logical continuation...
Born in Brussels in 1976, Rokia Bamba was one of the first Belgian voices to speak, broadcast and comment on hip-hop music on the airwaves of Brussels free radio stations. Since her childhood, with a music-loving father, she has been passionate about music. She quickly immersed herself in the musical diversity of the African continent and beyond, sharpening her ear and shaping her taste for the eclecticism of black music. Although the spectrum of Rokia Bamba's musical influences is broad, the red line running through each of her sets and sound creations is strong and clear. In Belgium, few female voices have emerged as critics of so-called urban and black music (African and Afro). At the same time, she multiplies prestigious venues such as the Massimadi Festival, the Botanique, the Ancienne Belgique, BOZAR, Afropunk Paris.... Today, from her turntables, Rokia offers us music as a vector of a collective movement, as a rallying cry, against the current of an industry that multiplies ephemeral musical segments.  
2:30 - 3:30 - 4:30 p.m.
AfricaMuseum
Leuvensesteenweg 13
3080 Tervuren
Price
For free with ticket permanent exhibition