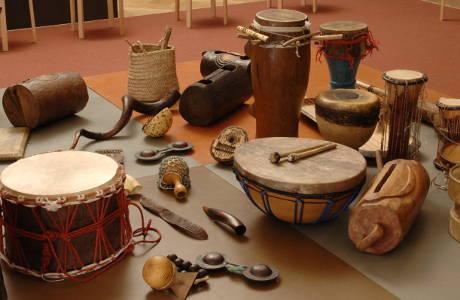 During this vibrant workshop, you and your group will sing, dance and play along a route through several African societies.
A search through the museum's galleries will introduce you to the little lamellophone, the bow harp and the slit drum, as well as swinging rumba dancers, drum orchestras and much, much more. 
Back in our miniature concert hall, you will join a professional musician for an amazing jam session, telling musical stories and dancing to rhythms you create yourself.  
This tour will always include the following galleries:
Rituals and Ceremonies
Languages and Music
---
Are you bringing more than one class? Or can you stay a little longer? Then why not consider the workshop Growing up or the general guided tour for primary schools?
Or if you'd prefer some fresh air, head for the adjacent park or Tervuren's nearby playground.
Would you like to stay up-to-date with our educational activities? Then sign up for our newsletter.
AfricaMuseum
Leuvensesteenweg 13, 3080 Tervuren
Audience
2nd year & 2nd-3rd level primary school
Kids 7-12 year
Language
In French and Dutch