The age of colonial exhibitions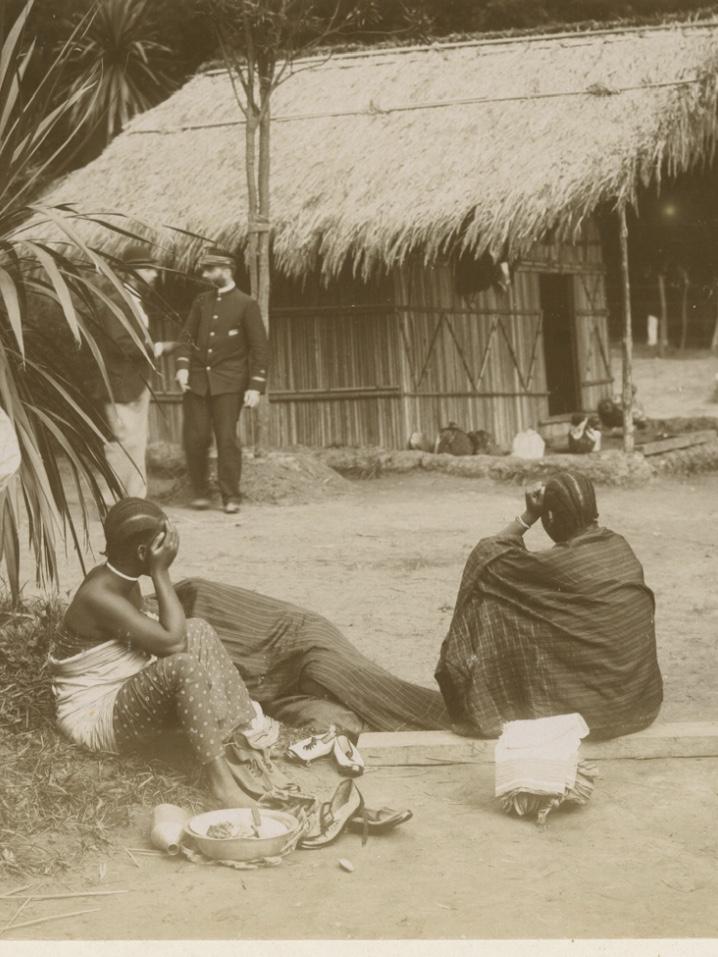 Human Zoo is a travelling exhibition created by Pascal Blanchard (ACHAC) that highlights the forgotten history of the human zoos. In Tervuren, the exhibition is being held in connection with the anniversary of the colonial exhibition held 125 year ago. This colonial exhibition in Tervuren was part of the 1897 World Exhibition of Brussels. As part of the colonial propaganda, three Congolese villages were reconstructed in Tervuren's Warande Park as a visitor attraction. Two of the 269 Congolese people who were intended to temporarily populate the village died during the journey to Tervuren. A further seven Congolese people – Ekia, Gemba, Kitukwa, Mpeia, Zao, Samba and Mibange – did not survive the chilly summer and are buried in Tervuren.  
Although the exhibition focuses on Tervuren, it also places the phenomenon in a wider context. Between the start of the 19th century and the Second World War, exhibitions of this kind were held throughout most of Europe, as well as in the United States, Japan and the Congo. As the colonial conquests continued, so these exhibitions increased in popularity. It was not only Africans who were featured in these "anthropological" exhibitions, but peoples from all of the colonised countries, including Indians, Aborigines, Asians, etc. Certainly, they became very popular throughout Europe after 1880. Though, initially, just a few individuals were exhibited in this way, the phenomenon quickly developed into a full-scale exhibition industry in which groups of people, sometimes in their hundreds, were exhibited around the world. They were presented in exotic backdrops with "real villages". For most Westerners at that time, it was their first contact with people of a different ethnic origin. 
More than 800 million curious visitors came to see the travelling human zoos. Approximately 30,000 people were "exhibited" in this way. Many died of disease or deprivation. Although the human zoos seem to have been erased from the collective memory, these exhibitions had a huge impact and can be considered among the origins of the deeply-rooted racism we see worldwide today. Many records of this forgotten history remain, in the form of posters, postcards, drawings and filmed testimonies that will be shown at the exhibition.   
The exhibition is structured in six sections to give a chronological overview of the history of the human zoos. The exhibition also looks at the origin of racist thinking and at racism today. African artists and African associations are given a free hand to give their perspective on modern-day racism.
Project 'Muzungu Tribes (Hang'Art) by Teddy Mazina  in cooperation with Café Congo (to be confirmed). 
In 'Muzungu Tribe's, the artist Teddy Mazina sets off on a voyage of discovery using his camera lens. Taking an artistic approach, he examines racial prejudices and intolerance.  'Muzungu Tribes' looks at notions of the hierarchy of races, ethnic classification and the representation of peoples. 
Temporary exhibition
AfricaMuseum
Leuvensesteenweg 13, 3080 Tervuren